Strategy is about making choices with the objective to maximize the value creating potential of an enterprise. Value is not simply a matter of profitability, something which is oftentimes forgotten. Thus, simply focusing on the P&L impact when making strategic decisions is a too simplistic approach and may not necessarily lead to the most value creative decisions being made.
Below follows a very simple example to illustrate my point. Let us consider two mutually exclusive projects with the same initial investment and same revenue streams. The difference between the two is how the revenue streams are generated.
Option 1 – revenue derived from few, large clients
Option 2 – revenue derived from numerous, small clients
The difference in performance between the two options is driven by:
higher sales & marketing budget in option 2 due to need to source more clients (4.0% vs 3.0% of revenue)
higher logistics cost in option 2 due to more frequent and smaller deliveries (5.5% vs 5.0% of revenue)
higher general admin budget in option 2 due to more clients to manage (2.5% vs 2.0% of revenue)
larger clients in Option 1 command better payment terms, so accounts receivable days is higher (40 days vs. 12 days)
Project assumptions used: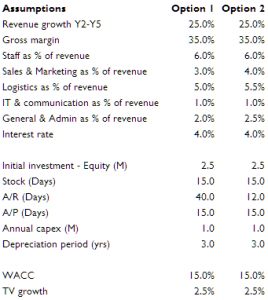 This yields the following financial summary:
Option 1
Option 2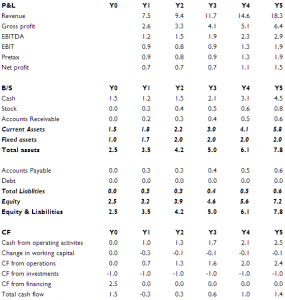 As one can see, if one takes a pure P&L snapshot, Option 1 looks the most attractive due to better profitability and higher margins.

However, if one extends the analysis to the balance sheet, and implicitly the cash flow statement, factoring in the extended payment term impact on working capital, one sees that Option 2, despite lower profitability, generates better cash flows. Valuing the 2 projects based on a DCF approach, my preferred approach, one sees that the project creating the most value, measured both by project/ enterprise value and IRR is actually Option 2, despite its lower profitability.
Value of Option 1

Value of Option 2

This example is obviously rather simplistic in its conception, but it does show the limits of a P&L centric approach to decision making. Long term profitability is necessary for value creation, but not sufficient. In order to maximize the value creating potential of an organization, equal importance must be given to the balance sheet management, as at the end of the day, the real value of a company is its capacity to generate positive cash flows for its owners.
As always, thoughts and opinions are most welcome.